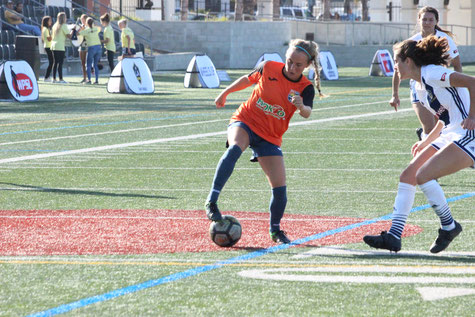 Parceiro Ladies  Lose Third Straight 3-1 to LAGSD
By: Hector Trujillo 
After suffering back to back loses in Arizona at the hands of FC Tucson Women and Phoenix Del Sol in their most recent road trip to Arizona, SD Parceiro Ladies were looking to get back on the winning track on the road against LAGSD on Saturday. Parceiro Ladies (1-3-0) played with a full squad against their crosstown rival LAGSD (2-0-2) unlike their previous two match where the team only had a dozen players make the trip. The game would start out even in the first 20 minutes with both squads trying to assert their momentum. 
"Overall, I would say the atmosphere for today's game was energetic," said Parceiro Ladies Midfielder Malia Kaleiohi. "There was lots of talent on both sides of the ball. For a team that hasn't played together very long l, I feel like we are getting better every game". Despite their efforts, LAGSD would put the game away by halftime with three goals in the span of 20 minutes (21st, 28th, and 41st minute) taking a 3-0 lead into the locker room. SD Parceiro controlled possession for most of the second half as they tried their best to get back in it. "We played a good team today, but couldn't put all the pieces together," said Parceiro Ladies Midfielder Gianna Montini. "It was a tough loss, we made a few crucial mistakes that cost us in the end, but we put it together second half and got a goal in the last few seconds" said Parceiro Ladies Midfielder Gianna Montini. 
Parceiro Ladies opened the season with an impressive home win against WPSL power SD SeaLions 1-0. Their next game is on the road once again in a rematch versus the SeaLions(0-3-1) who will be hungry for their first win of the season. "I feel like we are getting better every game by connecting passes and reading each other," Kaleiohi added. "I'm excited to see things come together in the next few games. Kaleiohi scored the team's long goal off a free kick from just outside the box in the game's final play. LA Galaxy brought a lot of attack in the first half, The match is on Saturday, June 16th at Cathedral Catholic High School with kickoff being 7:30pm. Parceiro Ladies then finish the regular season with three straight games at home.