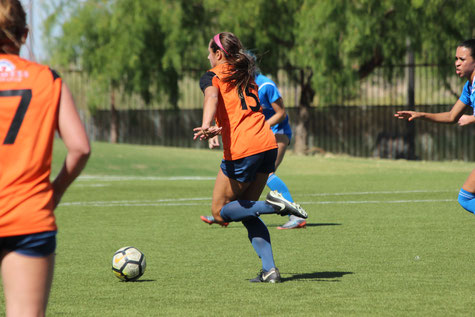 By: Hector Trujillo 
It all started with a bad omen for the shorthanded SD Parceiro Ladies (1-2-0) on their way to Kino North Stadium for Friday's match against FC Tucson Ladies and it didn't get better after that. Coming off a 1-0 home win against WPSL powerhouse San Diego SeaLions in their opening match, Parceiro Ladies had to contend with variables that would test even the most experienced of teams.
"There was nothing easy about this trip, including a semi truck running us off the road prior to our Tucson fixture," said SD Parceiro Ladies Head Coach Lev Kirshner. I was so proud of the physical effort as well as the mental fortitude." While both of Parceiro Ladies opponents (FC Tucson and Phoenix Del Sol) had complete squads, the visitors only has a dozen players available for the180 minutes-plus contending with 100-degree weather within   a 16-hour span. 
The first match against FC Tucson Ladies saw the team go down midway through the first half. Despite the halftime adjustments, SD Parceiro gave up another goal in the 48th minute which basically sealed the match.
"I think our team worked really hard especially under the circumstances" said SD Parceiro Ladies Defender Cassidy Kaumeyer. "It's a tough thing to do on the road but I think our team was resilient. I think our team fought till the end and worked hard for each other.
Parceiro Ladies would follow up their match on Friday against Phoneix Del Sol and, despite creating some quality scoring chances in the first half the two squads would enter halftime tied 0-0. With less than 15 minutes left in regulation Phoenix Del Sol would score on a quick shot that found the back of the net.
"It was a good start to the season," said Parceiro Ladies Midfielder Samantha Staab. "Despite having only one sub, I felt we fought hard and created some good opportunities."
SD Parceiro Ladies return to San Diego for their next match against crosstown rival LA Galaxy San Diego on June 8th.. The team expects to be at full strength and ready to bounce back from the tough weekend out of state.
"I can't  express enough how impressed I was with our group." Kirshner added. "We look forward to getting back our full squad and to SD for the rest of the season."
The match against LAGSD is starts at 5pm at Army and Navy Academy.